Hotel Packages
To reserve your hotel package, please call 1-866-791-7626 or email
reservations@southpointcasino.com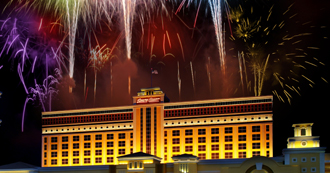 2015 New Year's Eve Packages
Room and Show Packages featuring Gregg Austin's M Town & More, Spazmatics, and Michael Cavanaugh.
2016 Big Game Package
February 7th, 2016
Room accommodations, drink coupons, and tickets to our Big Game party.
2016 NASCAR Las Vegas Packages
March 3rd - 6th, 2016
Deluxe room accommodations, transportation and tickets to the NASCAR weekend.
Renew Spa Package
Renew yourself with a stay in one of our Deluxe Rooms and a $100 Spa credit for Costa del Sur Spa and Salon!
Golf Packages
One night accommodation and golf packages at Rhodes Ranch Golf club from $125!
Room & Show Package
Deluxe room accommodations, $20 food credit and two tickets to a headliner performance in the South Point Showroom from $90!
Get To The Point Package
Two night package with a $40 resort credit from $179 Sunday through Thursday and from $289 on Friday and Saturday.
TOP